Aaptiv is a partner of Haven Life Plus — a no-cost rider to the Haven Term life insurance policy that gives policyholders access to benefits that help them live healthier, fuller and more protected lives. Learn more about Haven Plus.
"Live your truth and eat your vegetables," is a phrase that John "J.J." Thornhill states at the end of every outdoor running, treadmill, stair-climber or elliptical class he teaches. It's a welcome sound that means you successfully dedicated 20, 25 or even 45 minutes to prioritizing your health (and that your sweat session is over.) It's also a helpful reminder to pick up some vegetables when you grocery shop hungry later that day.
Enthusiastic, entertaining and inspiring personal trainers like J.J. and the healthy living habits that are encouraged and celebrated through Aaptiv are just part of the reason why it's No. 1 in audio fitness on the app store.
Aaptiv is a fitness app that provides the guidance, motivation, and tools everyone needs to achieve their personal health goals. Available on Apple or Android phones, working out with Aaptiv gives you unlimited access to thousands of (fun) workouts lead by world-class personal trainers. Set to playlists featuring today's top artists, Aaptiv offers workouts for a variety of fitness levels, exercise preferences, and life stages with expert trainers guiding you at every step of the way. And most recently, Aaptiv debuted Coach, an AI-based assistant that creates personalized plans for every member – incorporating fitness, mindfulness, and healthy habits as part of a holistic approach to maintaining a healthy lifestyle.
Aaptiv history
The inspiration for Aaptiv came to Ethan Agarwal when he was regularly traveling as a consultant. The hotel gym wasn't providing the motivation he needed to live healthfully while on the road, and it's a known issue that constantly paying for a la carte boutique fitness classes and personal trainers can be painful on the wallet.
In August 2015, Ethan launched Skyfit (which later rebranded to Aaptiv) to transform the way we think about fitness and stay healthy. Aaptiv's community is now at more than 200,000 engaged and welcoming members and continues to grow.
Aaptiv cost
Aaptiv costs $14.99 for a monthly subscription or $99 for a yearlong one (a 45% savings compared to monthly.)
With Plus, a no-cost rider (think benefit) to the Haven Term policy, Haven Life customers get an annual subscription for Aaptiv at no cost. Plus also includes access to an online will service, jet lag app, digital vault, and discounted family health services.
How Aaptiv works
Aaptiv is the rare workout app that has figured out how to turn the thing-you-use-twice-and-then-delete-from-your-phone into your next fitness app-obsession.
What's Aaptiv's secret habit-forming formula? It's fourfold:
Fresh workouts – Kind of a "no duh," but still important. Aaptiv adds 30 new classes across several categories, like strength training, running, and yoga, every week to the app.
A killer soundtrack – Aaptiv workouts are audio-based and perfectly paced to a playlist of exactly the sort of music you want to hear when you've got one more sprint interval to get through on the "dreadmill."
A supportive community – Aaptiv has over 200,000 members, many of whom actively participate (i.e., share progress, favorite workouts and sweaty selfies) with Team Aaptiv. The group is equal parts inspiring, motivating and welcoming.
Your own artificially intelligent-assistant – Coach is Aaptiv's newest feature, an AI-based platform that builds you a personalized health and fitness plan for every day of the week, and then holds you accountable.
When you sign up for Aaptiv, you will be prompted to share information about your health goals, workout preferences (such as days and timeframes), lifestyle habits and even what kind of workout equipment you have access to. From there, Aaptiv Coach will provide you with a personalized plan to help achieve your goals. You'll be able to easily sort through recommended exercises, or you can choose a class based on your mood that day. Feeling a 90s themed workout? They've got that. (And it's awesome.)
You'll be able to track your workout streaks, calories burned and feel awesome about not only the progress you're making but the time you're dedicating to self-care.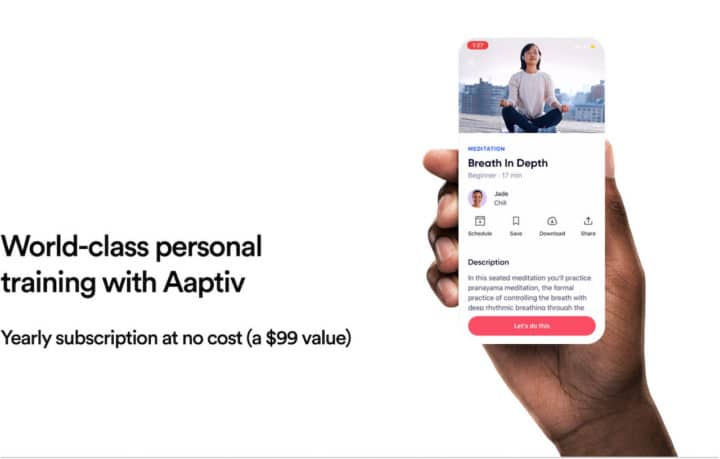 Who Aaptiv is right for
Aaptiv offers an affordable and very enjoyable alternative to trendy boutique classes and expensive personal trainers that are welcoming to all fitness levels. For individuals who find themselves in a slump or who need a bit of a workout pick-me-up, Aaptiv provides accountability, motivation and a great mix of exercise options to reinvigorate your health routine.
Aaptiv is ideal for a wide range of people like frequent travelers (business and pleasure), new parents looking to ease back into a fitness routine, those who prefer exercising at home or outside or even who need new motivation at their gym, race training like a marathon or 5K (there are even programs to train for running a mile), and, overall, anyone looking to develop a workout schedule on their own terms.
Because Aaptiv is an audio fitness app, it can occasionally be tough to follow along when participating in strength training or yoga workouts, for example. However, the app does include helpful guides you can reference for a visual understanding of the moves trainers are encouraging you to do, and the trainers are highly skilled at an audio-delivery of workout instructions and encouragement. For most people, you'll find that not having to watch your phone for the entire workout adds to the enjoyment.
Aaptiv is available as part of the Haven Life Plus rider, included in the Haven Term life insurance policy. Aaptiv also is available independently of the Haven Life Plus rider, as a free or paid app.
The primary reason for the purchase of life insurance is the need for the death benefit. Haven Life Plus (Plus) is the marketing name for the Plus rider which is included as part of the Haven Term policy and offers access to "Plus Benefits," which are additional products, services and benefits. The rider is not available in every state and is subject to change at any time. Neither Haven Life nor MassMutual are responsible for the provision of the benefits and services made accessible under the Plus Rider, which are provided by third party vendors (partners).