Yesterday, your term life insurance was able to help you financially protect your loved ones.
Today, yes, your policy still does that. That's what it's for. But it can also make traveling easier and your beach body tighter.
We're excited to share that two new services have been added to Haven Life Plus. Aaptiv© (a world-class fitness app) and Timeshifter® (personalized travel plans that eliminate jet lag) are now available at no cost to our customers (where available, subject to state availability).
Haven Life Plus is a rider (think bonus feature) included with the Haven Term policy that gives policyholders access to products and services that help make life less hard. The following great partners are available via Plus:
So, what brings Aaptiv and Timeshifter to the party, you ask? Popular demand.
Earlier this year we surveyed Haven Term policyholders to ask what else they would want to be added to Haven Life Plus. Number one with a bullet: Apps that help you live healthier. In fact, the result was so overwhelming, that we decided to add not just one, but two.
So, without further ado, let's introduce you to your new favorite apps.

A fitness platform to help you achieve your personal health goals
Aaptiv is the rare workout app that has figured out how to turn the thing-you-use-twice-and-then-delete-from-your-phone into your next fitness app-obsession. What's Aaptiv's secret habit-forming formula? It's fourfold:
Fresh workouts – Kind of a "no duh," but still important. Aaptiv adds 30 new classes across several categories, like strength training, running and yoga, every week to the app.
A killer soundtrack – Aaptiv workouts are audio-based and perfectly paced to a playlist of exactly the sort of music you want to hear when you've got one more sprint interval to get through on the "dreadmill."
A supportive community – Aaptiv has over 200,000 members, many of whom actively participate (i.e., share progress, favorite workouts and sweaty selfies) with Team Aaptiv. The group is equal parts inspiring, motivating and welcoming.
Your own artificially intelligent-assistant – Coach is Aaptiv's newest feature, an AI-based platform that builds you a personalized health and fitness plan for every day of the week, and then holds you accountable.
As part of Haven Life Plus, policyholders have access to a yearly Aaptiv subscription at no cost (a $99 value.)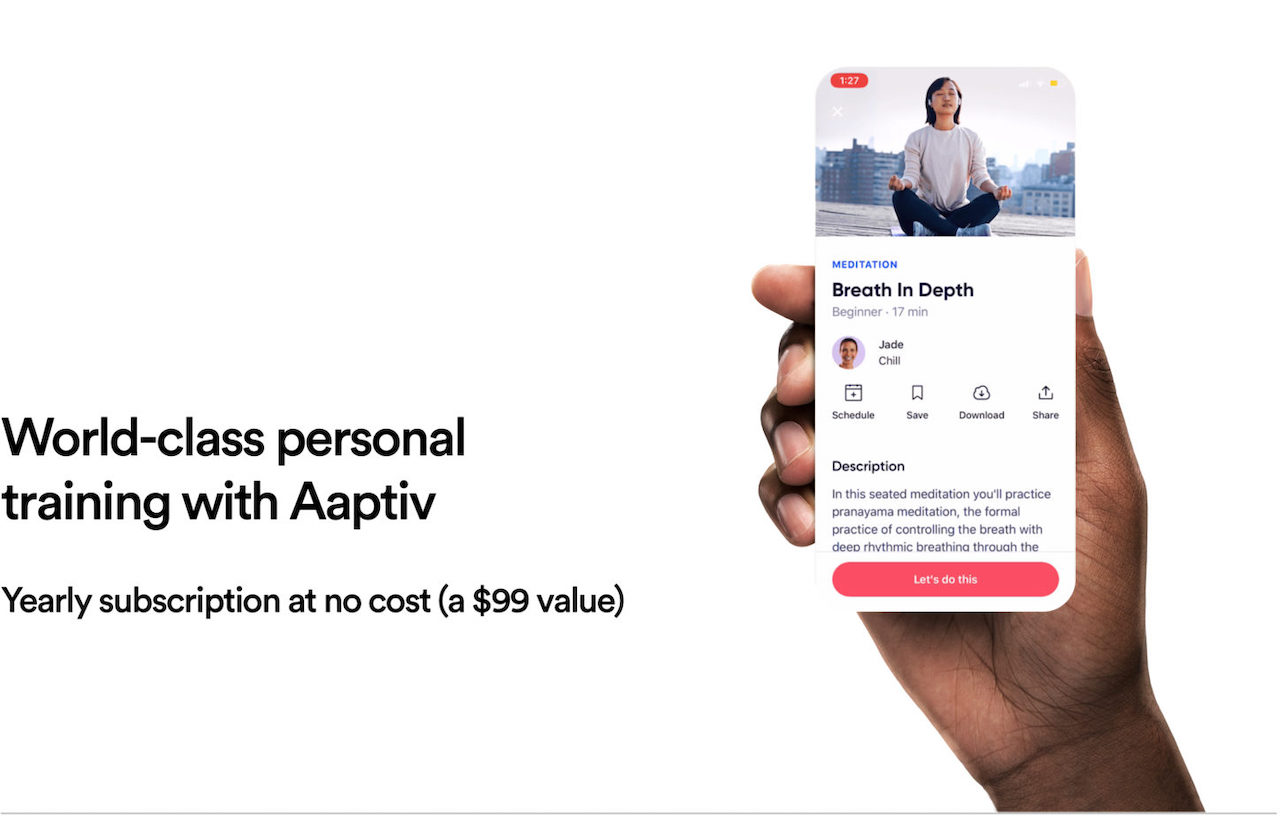 A travel plan for alleviating the symptoms of jet lag
A Harvard Medical School professor, a major airline executive and a medical officer from the Johnson Space Center walk into a bar …
Okay, in fairness, we have no idea if a bar was involved, but regardless, Timeshifter is the brainchild of a handful of world-renowned scientists, who got together with a team of Danish designers to take the latest in sleep and circadian neuroscience and build an app that helps cure jet lag.
Timeshifter is unique in that it's, well, unique. Generic jet lag advice (the standard up until this point) ignores the fact that everyone and their travel plans are different. What works for a business trip to London might actually hurt for a last-minute Caribbean getaway.
Timeshifter takes your travel itinerary, runs it through a Practicality Filter™ (yes, that's trademarked) and gives you a series of simple steps to follow – like when to avoid light and when to drink some coffee so that you can arrive at your destination feeling your best.
Timeshifter has been used by everyone from astronauts to international athletes to families just trying to take a cross country flight with their kids and maintain their sanity.
With Haven Life Plus, policyholders have access to a year of unlimited Timeshifter jet lag plans at no cost (a $24.99 value.)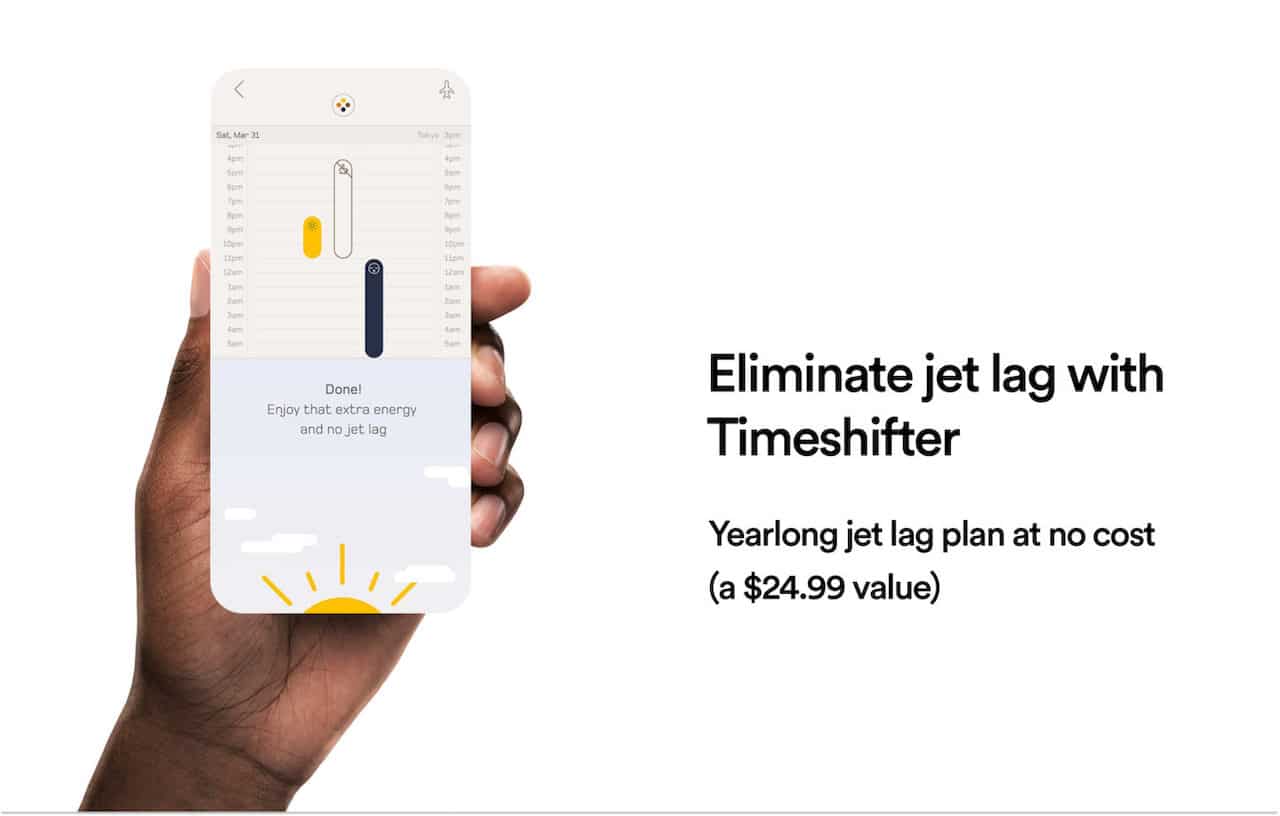 This is bigger than life (insurance)
We're not out to change the reason someone buys life insurance. A product that helps financially protect the people you love? That's important enough as is. But we've always felt there was more we could do for the people who put their trust in us.
Aaptiv and Timeshifter can help Haven Life customers (both current and future) live healthier in a way that conveniently fits into their routines.
We're excited to add these two new partners to Haven Life Plus, and more importantly, proud that we were able to listen to policyholder feedback and deliver something they genuinely want.
So, which Haven Life Plus services will you use?

Aaptiv is a copyright of Aaptiv Inc.
MinuteClinic is a registered trademark of CVS Health Corporation.
Timeshifter is a registered trademark of Timeshifter Inc.
Haven Life Plus (Plus) is the marketing name for the Plus Rider which is included as part of the Haven Term policy. The rider is not available in every state and is subject to change at any time. Neither Haven Life nor MassMutual are responsible for the provision of the benefits and services made accessible under the Plus Rider, which are provided by third party vendors (partners).