More than 44 million Americans have student loan debt totaling $1.5 trillion, and it continues to grow at a rapid clip.
Student debt comes in two primary forms: federal loans and private loans. Federal student loans are issued by the U.S. Department of Education, and private student loans are provided by banks and other private lenders.
Life insurance can help borrowers financially protect their cosigners if they were to die before their student debt is paid off.
Most federal loans do not require cosigners, such as a parent, but private student loans usually do. If someone has cosigned for student loans, they may face a significant risk that doesn't stop until the loan is paid off, even if the borrower passes away.
The financial risk to cosigners can affect many types of student loan borrowers and their loved ones. For example, Joe Biden, former vice president and a 2020 presidential candidate, says even though his son, Beau, never missed a payment, he still owed about $60,000 in student debt that wasn't dischargeable when he died of brain cancer at age 46. As a result, Biden paid his son's loan.
Life insurance can help borrowers financially protect their cosigners if they were to die before their student debt is paid off.
The Student Loans and Life Insurance Survey, conducted by Haven Life, interviewed student loan borrowers between the ages of 22 and 45. We wanted to understand if borrowers were aware of what happens to their student loans if they die, how they approach life insurance as a form of financial protection, and what impact student debt has on their lives.
How borrowers view the impact of death on their student loans
Despite the growing numbers of individuals who have student loan debt, the majority of people surveyed by Haven Life (73%) don't know what happens to their student loans if they die.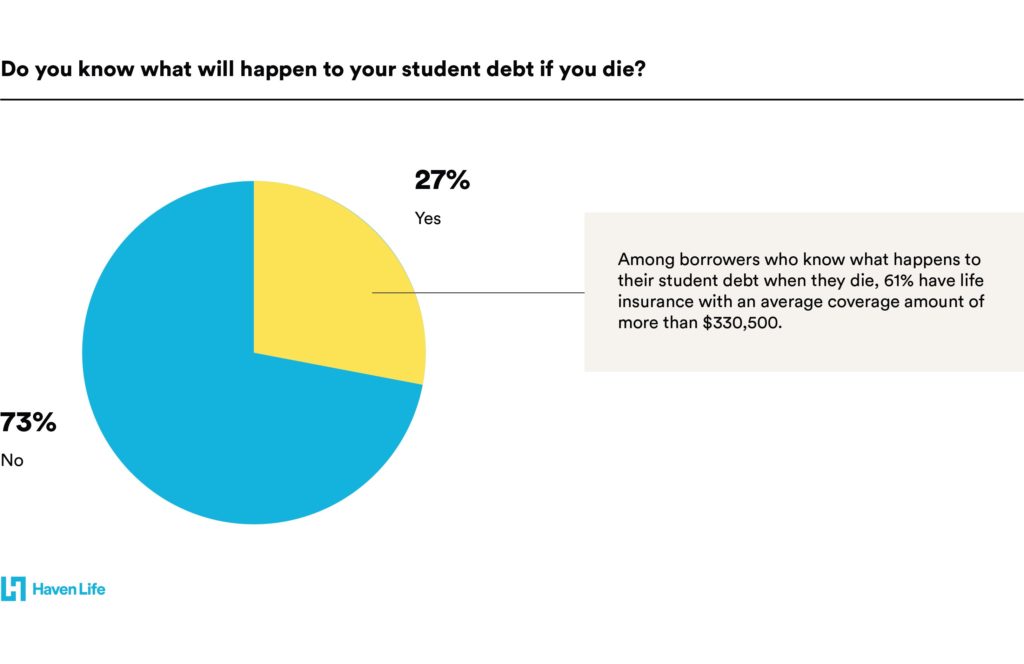 Of the people who don't know what happens to their student loans at death, nearly half have a cosigner or are unsure if someone else is on the hook for their debt if they were to pass away.
Borrowers surveyed by Haven Life had an average student loan debt of $38,027, which is close to the national average of $35,359 based on data from Experian and the College Board.
Student loan debt delays financial milestones
Nearly every person surveyed – 96% – has put off at least one major life or financial milestone due to their student debt. Saving for emergencies was the more common milestone delayed by borrowers.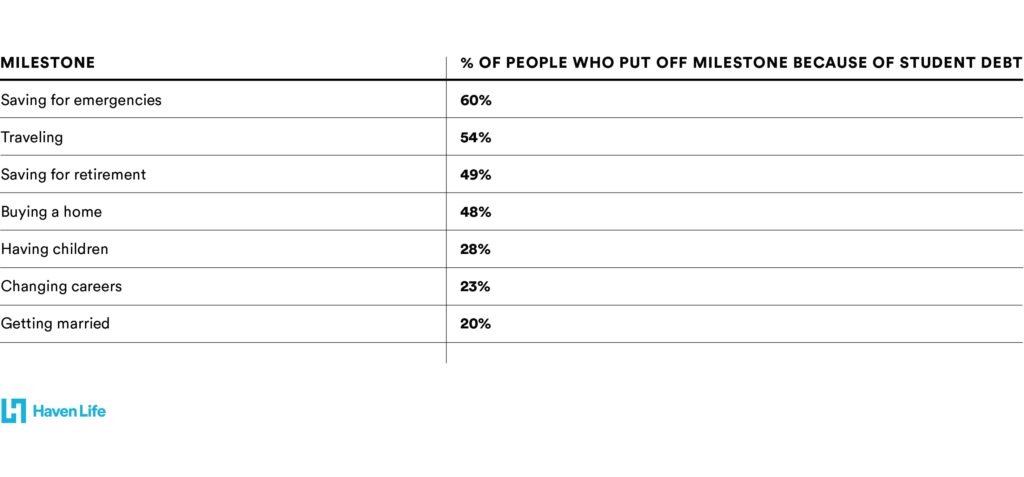 Beyond the basics of building an emergency fund, student loan debt had hindered the financial and personal lives of borrowers in critical ways.
68% say their student loan debt causes them to struggle financially.
Nearly half of respondents have put off saving for retirement. The median age of the borrowers surveyed is 30, which means these people will likely miss out on nearly a decade of compound interest on their investments – had they started saving in their 20s – and may end up working longer to afford retirement as a result of their loans.
Meanwhile, more than a quarter of respondents have delayed having children because of student loan debt.
The lack of an emergency fund or the ability to save for retirement or the means to start a family might explain another troubling statistic from the survey: 68% say their student loan debt causes them to struggle financially.
Borrowers may lack adequate life insurance coverage
The survey found that the type of student loan, federal or private, didn't influence whether people had life insurance coverage – 53% of borrowers with federal student loans had purchased life insurance while 52% of private student loan borrowers had coverage. But private loan borrowers had a coverage ratio of more than two times their annual income, while federal loan borrowers had coverage for less than one times their income.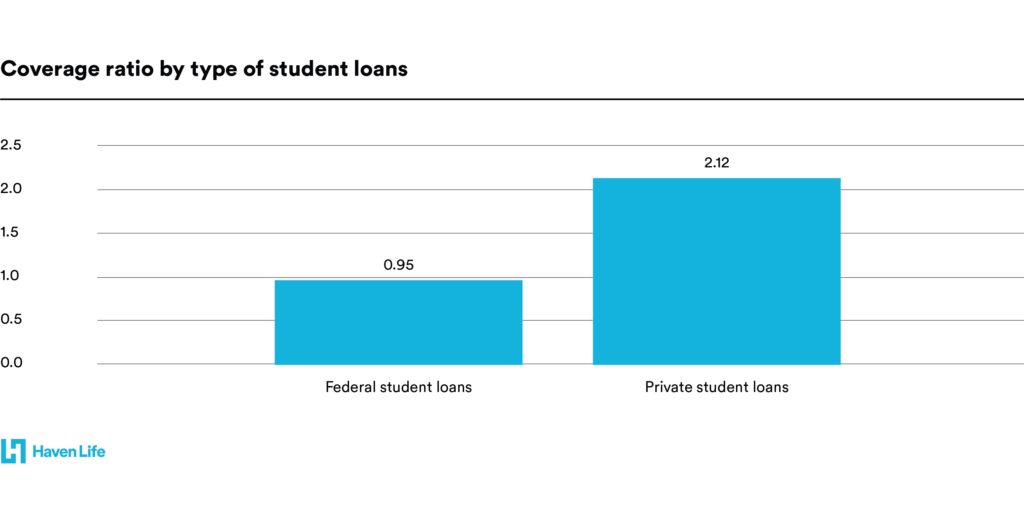 Both groups of borrowers still have much less coverage than the 5 to 10 times income many experts recommend. However, that rule of thumb can be problematic because of the gender income gap.
An online life insurance calculator can give you a personalized coverage recommendation based on your age, income, marital status, number of dependents, student loans and other debts that is better than a rule of thumb.
How student loan debt factors into life insurance coverage
Overall, the survey shows a majority of borrowers feel that student loans are a drag on their financial lives. And if you have student loans with cosigners, those people may have to carry that burden if you pass away.
The first step to help you (and your cosigners) with student debt is to understand what happens to your loans if you die.
Federal student loans are dischargeable at death, but there is a catch. If a loved one has cosigned a federal parent PLUS loan, your cosigner would receive a Form 1099-C if you were to die before paying off your student loans. Whatever amount that was forgiven by the discharge would be taxed as income. The tax burden would not be as large as the loan balance, though it could be a significant burden. Parent PLUS loans have risen from 14% of total federal lending for undergraduates in 2013 to 23 percent in 2018.
Private student loans vary from lender to lender on whether they are dischargeable by death. Half of private student loans programs do not offer death discharges, and roughly 90% of private student loans are cosigned. That means if a borrower dies before paying off their student loans, the cosigner becomes responsible for repaying the remaining debt after the estate is settled.
If loved ones who cosigned your student loans are at risk, you have three common ways to protect them financially:
1. Term life insurance
The death benefit from a term life insurance policy can pay off a cosigned loan if the borrower passes away. These affordable policies offer term lengths of 10, 15, 20 or 30 years, so a borrower can buy coverage to last for the duration of the loan repayment term. For example, a 25-year-old woman in excellent health, could buy a 10-year, $100,000 Haven Term policy, issued by MassMutual, starting at just $7.97 per month.
2. Student loan refinancing
Many borrowers are able to release cosigners through student loan refinancing. When you refinance student loans, a new loan is taken out from a private bank or lender. This loan pays off the old loan with the cosigner, and you are left with a new loan, interest rate, repayment term, and no cosigner. Applicants typically need good credit and high income to qualify for this option.
3. Cosigner release form
Some lenders provide a cosigner release form after a certain number of on-time payments. So borrowers can prove their creditworthiness by keeping their student loans in good standing. Contact your lender to find out how many payments need to be made to qualify for this option. The Consumer Financial Protection Bureau offers free templates to ask a lender to release cosigner.
Whether it's buying a term life insurance, student loan refinancing or signing a release form, these options can help minimize financial risk to cosigners, but only one option goes beyond the debt.
The decision to purchase life insurance comes down to the financial legacy you want to leave the people you care about the most. If you find yourself with student loans to pay off and people who depend on you, life insurance can provide a much-needed financial safety net should something happen to you.
Methodology
Haven Life conducted a quantitative survey between Oct. 30 – Nov. 7, 2019 and collected N=396 completes. Respondents were required to be between 22-45 years old and have student loan debt. The median respondent's age was 30 years old. The median HHI was $41,000.
Haven Life Insurance Agency, LLC (Haven Life) conducted this research for educational/informational purposes only. Haven Life is an online life insurance agency offering term life insurance issued by Massachusetts Mutual Life Insurance Company.