Timeshifter is a partner of Haven Life Plus — a no-cost rider to the Haven Term life insurance policy that gives policyholders access to benefits that help them live healthier, fuller and more protected lives. Learn more about Haven Plus.
Generic jet lag advice is, well … generic. It won't reduce your jet lag and can actually make it worse. Each traveler and trip is different and requires a personalized approach.
I discovered my own recipe to prevent insomnia and fatigue from long-distance travel with Timeshifter® – The Jet Lag App. I recently used the app on two international trips, one from New York City to Morocco and other to Scotland. It usually takes me a day or two to recover from trips overseas or to the West Coast to see family and friends. Timeshifter helped me feel rested in the days after both trips. There was no going home from work early because I couldn't keep my eyes open at the office or waking up at weird hours during the night because my body clock was off. It was business as usual when I landed.
With a few simple steps, like drinking coffee or avoiding bright light at certain times, you can curb the effects of jet lag by following Timeshifter's personalized plan. The trick is that the advice has to fit exactly to your sleep style and flight itinerary. That's where Timeshifter's powerful algorithms and its Practicality Filter™ come in.
Timeshifter history
Danish entrepreneurs Jacob Ravn, Mickey Beyer-Clausen and Tony Hanna co-founded Timeshifter in 2017. They recruited high-profile sleep scientists, such as Steven W. Lockley, Ph.D., a neuroscientist and an associate professor of medicine at Harvard Medical School's Division of Sleep Medicine, and Dr. Smith L. Johnston III, a medical officer and flight surgeon at NASA's Johnson Space Center.
In its brief history, the Timeshifter team has given astronauts, elite athletes and everyday travelers like you and me personalized guidance on how to combat jet lag. In March, Timeshifter received National Sleep Foundation's 2019 SleepTech Award for "Best App" and has been called a "game-changer for frequent fliers" by Travel + Leisure.  Apple users give Timeshifter 4.8 stars out of 5 stars.
Timeshifter cost
Timeshifter costs $10 per jet lag plan or $24.99 for an annual subscription.
With Plus, a no-cost rider (think benefit) to the Haven Term policy, Haven Life customers get an annual subscription for Timeshifter at no cost. Plus also includes access to an online will service, fitness app, digital vault and discounted family health services.
How Timeshifter works
Timeshifter doesn't dole out cookie-cutter advice about jet lag you can find with a quick internet search.
The jet lag plans Timeshifter crafts are unique to you and each trip. The hour-by-hour plan is as simple as taking small actions at specific times, even while in-flight.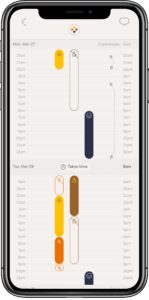 You enter flight information, sleep patterns, and chronotype (are you a morning person or a night owl?) and it will advise you on when to access or avoid bright light and caffeine, take a nap, or use melatonin (a natural sleep aid)  to help you adjust to your new time zone. All these factors are reflected in the advice it gives you to prevent jet lag.
People behind Timeshifter know what they're doing. Lockley, the Harvard Medical School neuroscientist, has studied circadian rhythms and sleep for nearly 25 years. His research has focused on how timed light exposure and melatonin can defeat jet lag by rapidly resynchronizing your body to the new time zone.
"The key time cue our body clock uses to reset is the light and dark cycle," Lockley says. "If we time light properly and time light avoidance, or dark, properly, we can shift the body clock much more quickly. So instead of shifting up to an hour a day, which you can do if you did it yourself and you didn't know what you were doing, we can shift the body clock three times quicker than that."
Who is Timeshifter right for?
Many people can benefit from Timeshifter's jet lag plans: Frequent travelers, jet lag suffers and … me. The app isn't just for long-distance flights. For business travelers, Timeshifter has a quick turnaround feature that provides value for short trips.
For me, Timeshifter removed one of the little inconveniences of long-distance travel. My Timeshifter plans were easy to follow, even in the hustle and bustle of flying internationally. I appreciated the detailed guidance on caffeinated beverages. In the past, I've tended to either overdo it with coffee and get the jitters after I land or skip it all and feel sluggish the next day. Those seemingly small adjustments added up to big differences in my travel experiences.
You'd think Timeshifter would be great for pilots and flight attendants. Unfortunately, because of the variability of their schedules as well as government rules on time off and sleep, Timeshifter doesn't work well for them … yet.
Helpful tips for using Timeshifter
If you want to maximize the personalized travel plans with Timeshifter, follow these steps:
Enter all your personal details correctly. The app and its algorithms are only as good as the information you give it. Make sure you use your normal wake-up time and sleep time with Timeshifter as well as your chronotype (early bird, night owl or not sure), so the plan is truly special to you.
Update the plan immediately when your flight changes. I experienced no jet lag on my trip to and from Scotland, but only a smidge on the way back to the states from Morocco. A flight delay knocked my plan a bit off schedule in Morocco, as I forgot to update my itinerary in the app, and that reduced the effectiveness of the jet lag plan.
Use plans with pre-travel and melatonin advice. For Morocco, I skipped Timeshifter's guidance on melatonin (because I forgot to pack some for my flights) and its pre-trip suggestions. For Scotland, I followed the app every step of the way. As I said, my Scottish trip was completely free from jet lag. The comprehensive advice worked better for me.
Other ways to tackle jet lag exist, but none give you a personalized plan backed by science and technology on your smartphone like Timeshifter. This app lets me leave jet lag in the overhead compartment when my long trips are finished. It could do the same for you.
That's why Timeshifter should be part of any savvy traveler's toolkit, as much as a sleep mask, noise-canceling headphones and a good pillow.
Timeshifter is a registered trademark of Timeshifter Inc.
Timeshifter is available as part of the Haven Life Plus rider, included in the Haven Term life insurance policy. Timeshifter also is available independently of the Haven Life Plus rider, as a free or paid app.
The primary reason for the purchase of life insurance is the need for the death benefit. Haven Life Plus (Plus) is the marketing name for the Plus rider which is included as part of the Haven Term policy and offers access to "Plus Benefits," which are additional products, services and benefits. The rider is not available in every state and is subject to change at any time. Neither Haven Life nor MassMutual are responsible for the provision of the benefits and services made accessible under the Plus Rider, which are provided by third party vendors (partners).